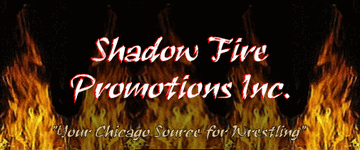 CURRENT DISTRIBUTION CLIENTS
Below is a list of the professional wrestling federations, professional wrestlers, Mixed Martial Arts promotions and Mixed Martial Arts fighters with whom Shadow Fire Promotions, Inc. currently has a working agreement in place to distribute their merchandise. For more information on any of these individuals or promotions, please check out our Affiliates & Links page for their individual websites, when available.
Hollywood (Gorgeous Ladies of Wrestling (GLOW))
Professional Wrestler


AfterGLOW Fan Party (Roxy Astor)
California, USA


Justin Kage
Retired midwest independent professional wrestler


Bryce Benjamin
Midwest independent professional wrestler


Drew "Tha Don" Johnson & "Poison" Appollo Starr (aka The Soul Shooters)
Midwest independent professional wrestlers


Dysfunction
Independent professional wrestler

Would you like to learn how to distribute your pro wrestling or Mixed Martial Arts merchandise through Shadow Fire Promotions, Inc. and reach a worldwide audience?
Click HERE for details.